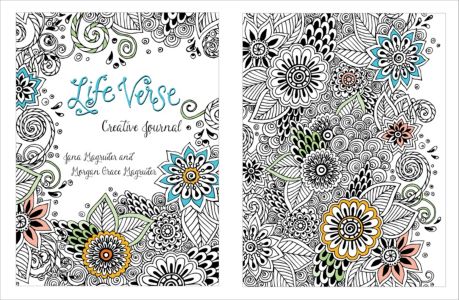 Life Verse Creative Journal set
Are you ready to discover your life verse? Choosing a life verse from Scripture is a powerful way to aim your steps toward God. This two-pack of beautiful journals (64 pages each) will guide you to choose a life verse and to make it your own! In journal 1, fifteen verses are explored through text and journaling prompts and combined with beautiful line-art illustrations for you to color and make your own. Journal 2 is blank and ready for your imagination, your art, and your story!
Here's my review of this creative way to engage Scripture:
First, I would like to extend a heartfelt "Thank you" to Morgan Grace Magruder and Jana Magruder and their publisher for sending me a copy of "Life Verse Creative Journal Set" to review for them. I am truly grateful for this generosity. I really appreciate the time, effort and expense it takes to make a reviewer copy available to me.

The "Life Verse Creative Journal Set" by Morgan Grace Magruder and Jana Magruder is a beautiful pair of petite books that can help you discover your life verse or simply help you to memorize several key verses of Scripture while you meditate through coloring.

The first book has pre-printed verses and lovely designs that can be colored while memorizing and meditating on the verses. The second book is blank for creating your own beautiful images.

This set is a beautiful gift for yourself or someone else. The books are smaller than I expected, but they have the potential to draw you into Scripture in a powerful way!